Taunton: An Ever-Evolving Christmas City
At 6:00 PM on June 30, 2016, Brewster Ambulance Service took over the emergency ambulance services for the City of Taunton, which became the sixth municipal 911-emergency service contract for Brewster.
The City of Taunton is known for deep New England traditions, being one of the oldest Cities in the U.S. It has a legacy of industry from textiles to ironworks and is a growing community with potential for diverse growth. To address the demands of a city's growth, Brewster proposed a robust and well-planned first response system that dovetailed with Taunton's police and fire departments. Since the start of the contract, all of these forces have worked together in a cohesive, aligned effort to provide the best emergency response possible to the community.
Brewster already had an existing location in Taunton on Weir Street, which created longstanding familiarity with the area. As with the other municipal 911-emergency ambulance service contracts, Brewster Ambulance's goal is to respect the city's legacy, save costs, reduce EMS concerns, and provide exemplary, measurable results that will add positively to all who visit and live in the City of Taunton.
Jeff Begin, who came on board with Brewster in August of 2015 as Director of Operations for Southeastern Massachusetts, said it was a natural progression because he'd worked in Taunton for over twenty years. Jeff and Steve DaSilva, Brewster Ambulance's Field Supervisor in Taunton, work closely together and have a great relationship with Taunton's fire and police departments. Jeff added, "We [Brewster Ambulance] have lived up to our reputation, having the coverage and the training. We have real quality people on our team."
Brewster is also actively engaged in community support, including the city's annual Turkey Trot, holding blood pressure clinics for the Council on Aging, public events such as parades and other community events. Brewster was also asked to be involved with the command center for Taunton's annual Lighting of the Green for the Christmas City, held December 3, 2016, which is the city's premier annual holiday event and attracts locals as well as visitors from surrounding areas to celebrate the holiday season.
A busy contract from the start
Two hours into the new contract on the eve of June 30, 2016, the Taunton crew was called into action assisting the Taunton Fire Department at a two-alarm fire at a warehouse owned by G Lopes Construction, Inc., on Prince Henry Drive in Taunton. Brewster provided a fire rehab unit, which Taunton firefighters greatly appreciated as they'd never had that before, as well as medical support and transport for injured firefighters.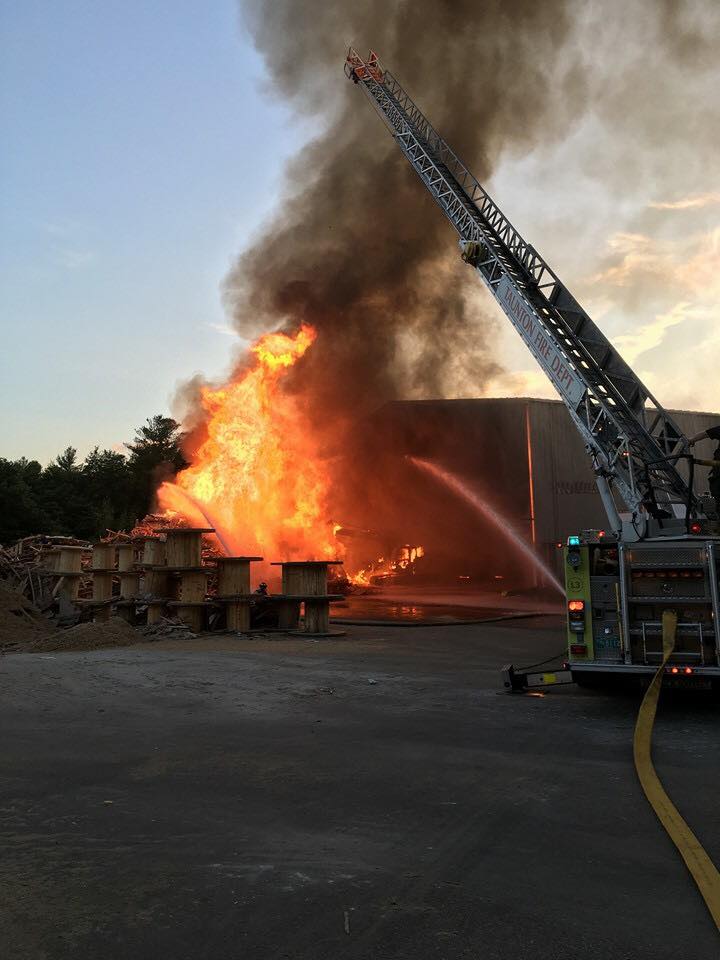 The ensuing weeks and months included calls ranging from a fifteen-foot embankment rescue in the Mill River on Weir Street to a death with injuries at the Bill Giles Memorial Regatta on Watson's Pond on September 10 to an explosion and fire at the Taunton Municipal Lighting Plant on September 23. The Taunton team has remained steadily busy supporting firefighters and responding to the needs of the community.
No Issues with Taunton's Performance
According to Steve DaSilva, as of November there have been approximately 1,700 transports. He added, "The crews have been phenomenal. Quite a bunch of people with experience in the community had come over from Taunton's previous provider. The fire department has accepted us as being a great partner to work with and we have not needed to request mutual aid and been able to get the job done with our Taunton crew and complement of vehicles. Some days we can go seven or eight calls at the same time, and we've been able to take care of our own work, and Fire's happy with that."
Brewster Ambulance has expanded into a larger location in Taunton just up the road from the current 64 Weir Street at 336 Weir Street. The location will house the new vehicles and provide an improved kitchen, living area and bunk rooms for the crew. 64 Weir Street will continue to house additional equipment and garage vehicles.
Bringing the XFINITY Center Online
Brantley Gilbert kicked off the 2016 concert season for the XFINITY® Center outdoor amphitheater in Mansfield, and Brewster Ambulance was there to support another brand new 2016 contract.
The crew and vehicle deployment strategy was assembled in a matter of weeks. Similar to the municipal contract approach, the goal was to bring the benefits associated with a large EMS provider, but make the XFINITY Center feel like Brewster was their community ambulance. That was achieved the very first night on June 2, 2016.
Brewster partnered with the Mansfield Fire Department to develop relationships from the ground up and put an even better strategy for supporting the XFINITY Center than had been in place with the previous provider. To assemble the team that would work the XFINITY Center, Brewster put out a notice calling for any interested team members who wanted to do the detail. There were well over 200 interested team members who applied for the detail, resulting in a team of 80 that was assigned to the detail. The approach was to put a team together as opposed to doing an open shift, week after week, that would help build relationships, facilitate better communication and standardize operations.
Brewster worked closely with venue management at the XFINITY Center and the Mansfield Fire Department to understand their protocols and how they wanted things set up. This included the way transports were executed and the specific chain of command.
There were site maps displaying how the venue is set up indicating exits, parking lots—which there were multiple lots to oversee—to help firefighters get patients to the first aid center. Mansfield Fire Department typically did triage and Brewster primarily did transports, however Brewster did do some triage in the police compound for heavily intoxicated people.
Building Relationships
Brewster established a great relationship with Mansfield Fire and Police Departments and the XFINITY Center, and had just over 280 transports for the whole 29-concert event season. The Mansfield Fire Department was able to use 78 less firefighters, which saved the town thousands of dollars in overtime pay. Brewster was able to self-sustain transports for concerts based on the XFINITY Center's prior years' concert numbers for repeat bands, and staffed the crews accordingly.
In 2015, Mansfield Fire did 28 transports with the town's ambulance. There were only three this year where Brewster had to reach out for mutual aid, and Fire didn't have to use their two town ambulances, which was a huge positive because the Mansfield's ambulances should be free to address the community's needs. They also appreciated that Brewster had the S2 supply truck available for supplies so crews were able to drop patients at the hospital and come right back.
The XFINITY Center and Brewster Ambulance are Ready for 2017
At the end of the 2016 concert season, Brewster sat down with Mansfield Fire for a briefing on how the operation went. Brewster suggested to increase an ambulance on the heavier shows where the XFINITY Center is at full capacity (just under 20,000 people). Brewster has less activity on the retail side on the weekends, and will move an extra truck into the area when most concerts happen for extra backup. Brewster is also looking at posting an ambulance in one of the further lots and increasing ambulances by one or two on heavier shows, now that there has been one season of experience with the XFINITY Center.
Mansfield Fire and the XFINITY Center were incredibly impressed with how Brewster's crews performed and management supported the operation (see Mansfield Fire Department thank you letter above). Patients were transported to Sturdy Hospital in Attleboro, Morton Hospital in Taunton and Norwood Hospital in Norwood. The command center housed all response services: fire, security and EMS. The incident commander would communicate with the teams for different injuries or people who were sick. The police would get the call and a crew would be dispatched. The commander in charge would direct which hospital to take patients, as the intention was to not overload the community hospitals. The most patients transported during any given concert was 37, many of which were under the influence of drugs and/or alcohol.
The Town of Mansfield has a law that if a person is a minor (18 or under) they must be transported to a hospital. As Brewster transported minors to hospitals, the crews would first find out where they lived and would transport them to the nearest hospital so their parents didn't have to travel far to get to them. It provided a much needed relief to Sturdy Hospital, where the prior provider would transport primarily to Sturdy because it was the closest hospital to the venue.
With the help of coordinated direction from incident commanders and readied crews, Brewster spreads transports out among all three hospitals. Sturdy Hospital management shared with Brewster how smoothly it went this year and how they are looking forward to the 2017 concert season and having Brewster's help at the XFINITY Center.