In order to consistently provide the highest safety for patients and reliability in its vehicles, Brewster Ambulance Service has purchased 48 new vehicles to replace older models. 27 of these new vehicles are ambulances, 20 are chair car vans and one is a supply/rehab unit. A popular ambulance vehicle used by ambulance providers across the country was the Ford E350 Econoline van, which Ford has since discontinued manufacturing.
The New Safety Standards Are Out
Massachusetts Department of Health and Human Services provides governance over ambulance safety standards as well as through 105 CMR 170 regulations for Emergency Medical Services Systems. On March 28, 2016, the Commission on Accreditation of Ambulance Services (CAAS) published Ground Vehicle Standard (GVS) for Ambulances v.1.0 Edition, establishing new criteria for ambulance safety. These standards went into effect July 1, 2016. The document is to succeed the KKK-A-1822 specifications (which are over ten years old) and the US Government plans to retire and replace KKK-A-1822 with the new specifications.
The CAAS's GVS committee comprised representatives from groups and government agencies including:
Association and Society Management International (ASMI)
Ambulance Manufacturers Division (AMD)
American Ambulance Association (AAA)
American College of Emergency Physicians (ACEP)
Association of Air Medical Services (AAMS)
National Association of EMS Physicians (NAEMSP)
National Association of EMTs (NAEMT)
National Association of State EMS Officials (NASEMSO)
National EMS Management Association (NEMSMA)
National Volunteer Fire Council (NVFC)
Transportation Research Board (TRB)
US Department of Homeland Security (DHS)
National Highway Traffic Safety Administration (NHTSA)
National Institute for Occupational Safety & Health (NIOSH)
National Institute of Standards and Technology (NIST)
US Department of Health & Human Services (HHS)
US General Services Administration (GSA)
Every ambulance moving forward will have to follow the same minimum standards. Key among the new standards are safety of patients, passengers and medics/drivers during transit. This ranges from markings on the trucks to positioning of safety harnesses, more secure stretcher systems to prevent injuries during accidents, more accessible cabinetry and grab rails. Safety during transport continues to be paramount in all EMS regulations.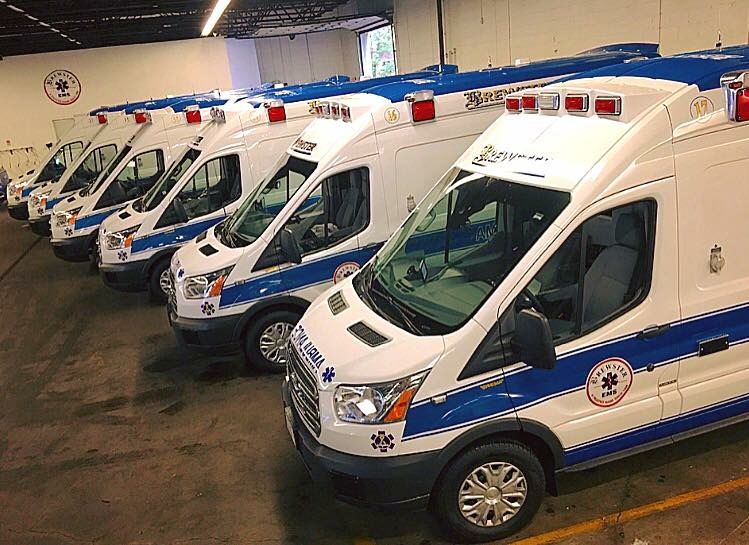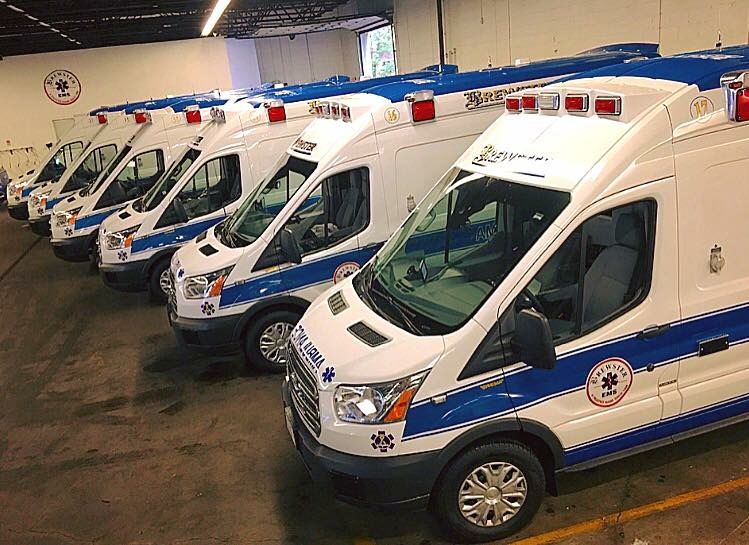 Introducing the Transit Van
Brewster is investing in the AEV Type II Transit van for their new replacement vehicles. These vehicles, built on Ford Transit T250/T350 chassis, have the following features:
Aerodynamically designed roof pod to minimize overall height increase but allow for a full KKK-A-1822-rev.F package
Antimicrobial, powder-coated grab rail recessed into the headliner
Rear door access with no requirement to get inside the vehicle or lift over patient
6-point harness standard in all seating positions
Angled squad bench to allow for additional aisle space
Optional exterior light housing to allow many different lighting configurations
Aerodynamically designed exterior light pod to Transit roof to allow for a full KKK-A-1822-rev.F package
Molded switch control panel console, fit to the OEM dash and allows easy access to all functions
Leadership Demands Consistent Criteria
To continue leading EMS improvement, Brewster Ambulance deploys new technology and updates new equipment based on the following criteria:
Must adhere to or fall within tolerance of state and federal EMS and ambulance operation safety guidelines and standards
Be proven in the field and have demonstrable efficacy in applications that fit Brewster Ambulance operations and customers
Seamlessly integrate with existing technologies and/or easily replace redundant systems
Provide cost-effective return on investment and create greater efficiencies in time savings, safety and/or reduced cost to deploy
Have adequate training and technical support and a reliable vendor/provider with the appropriate credentials, experience and financial infrastructure to support the technology and/or equipment
The goal at Brewster is to provide the utmost care to our patients and if we can improve safety—no matter how small or large the improvement—we will do it. We desire to lead by example and continue to work toward improving the services and quality provided by the EMS industry.