Bringing Brewster Ambulance Service to Serve the Christmas City
At 6:00 PM on June 30, 2016, Brewster Ambulance Service took over the emergency ambulance services for the City of Taunton, which became the sixth municipal 911 emergency service contract for Brewster.
The City of Taunton is known for deep New England traditions, being one of the oldest Cities in the U.S. It has a legacy of industry from textiles to ironworks and is a growing community with potential for diverse growth. To address the demands of a city's growth, Brewster proposed a robust and well-planned first response system that dovetailed with Taunton's police and fire departments. Since the start of the contract, all of these forces have worked together in a cohesive, aligned effort to provide the best emergency response possible to the community.
Brewster already had an existing location in Taunton on Weir Street, which created longstanding familiarity with the area. As with the other municipal 911 emergency ambulance service contracts, Brewster Ambulance's goal is to respect the city's legacy, save costs, reduce EMS concerns, and provide exemplary, measurable results that will add positively to all who visit and live in the City of Taunton.
2017 Milestones for our Contract with Taunton
These are a few of the highlights from the most recent year serving Taunton:
Operated three ALS ambulances staffed with experienced paramedics and one BLS ambulance
Consistently met contracted response times with a total of 6,467 responses in the last year
Provided first responders nearly 300 hours of training in the last year
Conducted public CPR, AED and first aid training classes
Deployed multiple automated external defibrillators (AEDs)
Provided additional coverage for Lighting of the Green and city events
Offered EMT scholarships with mentorships at Brewster Ambulance
Launched Smart911™ service and held registration events
Jeff Begin, who came on board with Brewster in August of 2015 as Director of Operations for Southeastern Massachusetts, said it was a natural progression because he'd worked in Taunton for over twenty years. Jeff and Steve DaSilva, Brewster Ambulance's Field Supervisor in Taunton, work closely together and have a great relationship with Taunton's fire and police departments. Jeff added, "We [Brewster Ambulance] have lived up to our reputation, having the coverage and the training. We have real quality people on our team."
Spreading Brewster Cheer at the 2017 Christmas Parade
Brewster actively engages in community support including the city's annual Turkey Trot, holding blood pressure clinics for the Council on Aging, public events such as holiday parades and other community events. Brewster has also manned the command center for Taunton's annual Lighting of the Green for the Christmas City, which is the city's premier annual December event and attracts locals as well as visitors from surrounding areas to celebrate the holiday season.
A busy contract from the start
Two hours into the new contract on the eve of June 30, 2016, the Taunton crew was called into action assisting the Taunton Fire Department at a two-alarm fire at a warehouse owned by G Lopes Construction, Inc., on Prince Henry Drive in Taunton. Brewster provided a fire rehab unit, which Taunton firefighters greatly appreciated as they'd never had that before, as well as medical support and transport for injured firefighters.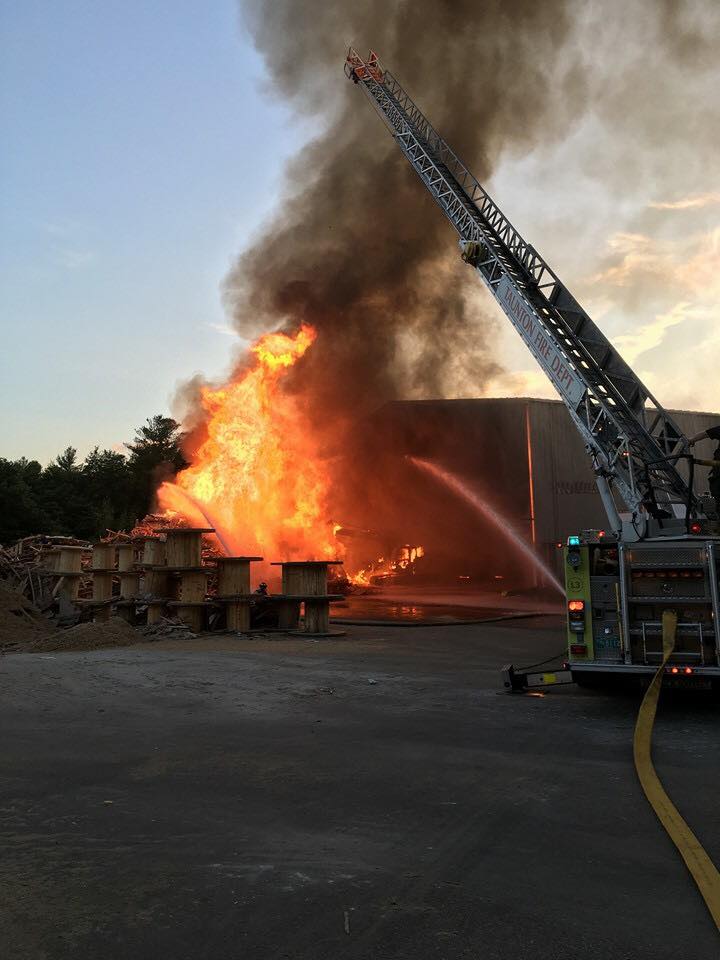 The ensuing weeks and months included calls ranging from a fifteen-foot embankment rescue in the Mill River on Weir Street to a death with injuries at the Bill Giles Memorial Regatta on Watson's Pond on September 10 to an explosion and fire at the Taunton Municipal Lighting Plant on September 23.
Even a miniature Pinscher helped Brewster's EMT Jennifer Peloquin, paramedic Chelsea Metivier and the Taunton Fire Department save the day, bringing alerts to homeowners of a multi-unit apartment house fire at 25 Second Street. The Taunton team has remained steadily busy supporting firefighters and responding to the needs of the community.
No Issues with Taunton's Performance
Steve DaSilva added, "The crews have been phenomenal. Quite a bunch of people with experience in the community had come over from Taunton's previous provider. The fire department has accepted us as being a great partner to work with and we have not needed to request mutual aid and been able to get the job done with our Taunton crew and complement of vehicles. Some days we can go seven or eight calls at the same time, and we've been able to take care of our own work, and Fire's happy with that."
Brewster Ambulance expanded into a larger location in Taunton just up the road from the current 64 Weir Street at 336 Weir Street. The location houses the new vehicles and provides an improved kitchen, living area and bunk rooms for the crew. 64 Weir Street continues to house additional equipment and garage vehicles.